Trucking had always been a dream of mine. I've always liked operating heavy machinery and traveling, so trucking was a natural fit. I drove truck coast to coast for one year in between college and seminary, while I was still single. My first time across the Rockies was in a bad snow storm. Dropping down a hill in a semi truck from 11,000 feet when it's hammering snow is quite an experience! What makes it more adventurous is looking down and seeing other tractor trailers that have careened off the interstate to the bottom of ravines from years past. It's an eerie feeling to see multiple unrecovered trucks at the bottom of a mountain. Once a truck has fallen so far, it's impossible to tow it back up to the top of a mountain, so many of them end up being left there permanently.
I believe evil is the same way. Once someone has fallen so far down, it becomes impossible to tow them back to the top. I had a Bible professor who has another helpful analogy called the "chained dog" theory. Evil is like a dog that's chained up. It has boundaries set by God. Evil still exists, but the chain restricts evil's reach. We can either stay outside of evil's reach, or we can taunt it and risk it latching on to us and dragging us deeper into its territory. Have any of you ever been to a place that is so dark, you can "feel" the evil?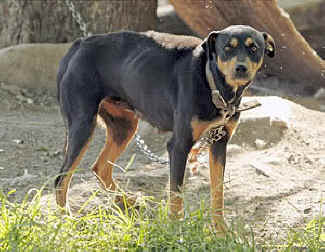 God warned the Israelites, "But be sure to fear the Lord and serve him faithfully with all your heart; consider what great things he has done for you. Yet if you persist in doing evil, both you and your king will be swept away" (1 Samuel 12:24-25 NIV). Romans 12:21 says, "Do not be overcome with evil, but overcome evil with good." The Bible mentions evil and its variants (evils, evildoer, etc.) just shy of 500 times. There is a consistent message throughout the Bible that many Christians deny. . . there is a level of evil that creates a suction point, a trap, a point of no return.
The small town of Tenancingo, Mexico is one of these places. It is the breeding ground for a major pedophile ring and sex trafficking to the United States. Young children are saying that they want to be like their dads and sell women for sex. There is no remorse, and darkness plagues the town. Psychologists are divided on what "makes" a perpetrator act out on very young children. Is it psychological factors, environmental, genetic, addictions to pornography, etc.? To be fair, nobody really knows for sure. If we are honest, we would admit that there are many hidden factors, both in the brain and in the home, that we will probably never figure out as far as causality. But one thing we can probably all agree on is that perpetrators who sexually act out on children are committing an evil. And once you begin messing with the dog, eventually it's going to bite. And in Tenancingo, the dog has claimed its territory and is dragging people all over the place. I highly recommend watching this documentary on Tanancingo's trafficking of sex slaves to the US. It is worth every minute.
****WARNING: We need people to watch this and raise awareness that this stuff happens all the time****

So what's my point? Or rather, what's God's point? At the top of the list, remember the old saying, "If you play with fire you're bound to get burned?" Well, if you play with evil, you're bound to get bit. According to Scripture, we've all done evil. But it's the perpetual toying with it that leads to the point of no return. There is, however, great news in all of this. For those who struggle with pedophilic thoughts at a younger age, rehabilitation is quite successful. I'd encourage parents who have allegations come against their children to not be so quick to defend them. Rather, get them the help they need.
I've received several phone calls with similar scenarios–a 13-15 year old boy was inappropriately saying things, doing things, or was infatuated with young children. And in all the cases (so far), the parents or guardians defended the perpetrator, not the alleged victims. Folks, if you see your child getting too close to a chained dog, don't tell everyone else to buzz off. Help pull your child from that evil. Seek professional guidance from a sex-specific therapist. Help your child get out before it is too late. The more children learn to keep this a secret, the more they will be emboldened to act out. Help them get out. Help them find a way to deal with their attraction and aggression toward younger children. Love does not defend evil. It helps pull people from it before they become so debased that they cannot stop.