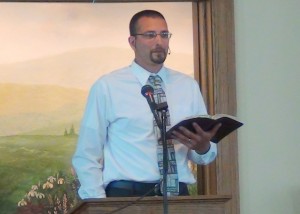 Jimmy Hinton grew up in Shanksville, PA just over a mile from where United 93 went down on 9/11. He is a faithful husband, father, and minister. In 2011, he discovered that his father was a practicing pedophile and that he had been for his entire adult life. Just as troubling to Jimmy was the fact that, despite having two degrees and years of experience in ministry, nothing and no one had prepared him for the impact this would have on his family, community, and church. In fact, even though over 90% of pedophiles are active members of churches, this is one topic churches are the most naïve about. Churches are inviting targets, yet many Christians don't want to entertain the idea that pedophiles are walking, breathing, and offending among us. The lack of educational and training materials for churches confirms this sad reality and, so, pedophiles continue to gain easy access to our children.
Jimmy takes his experience and combines it with academia to help educate and equip churches, schools, daycares, homes, and other high risk centers so that we can all take a stand and protect the innocent. His workshops focus on detection, reporting, and prevention of abuse. Currently, over 3 million young children are being sexually assaulted each day in the United States. When we include adult survivors of childhood sexual abuse, we add 39 million to that staggering number. This is unacceptable. We must work together to detect and prevent the tragedy of child sexual abuse from happening this often.
Jimmy is uniquely qualified to help people, especially churches, detect and guard against abuse. Most presenters do so from a liability reduction perspective and rely on standards set by insurance companies. In many cases, this makes a place more vulnerable to falling prey. Presenters are usually trained by organizations, or are themselves researchers. Jimmy, however, has lived with a pedophile under the same roof for 20 years of his life. He has observed firsthand how perpetrators think, manipulate, and maintain secrecy. There is an intricate system for manipulating children into sex and getting away with it.
Jimmy is co-founder and CEO of Church Protect, Inc., a non-profit organization that provides consultation and seminars on abuse. Jimmy has consulted with dozens of churches and witnesses time and time again how easy it is for perpetrators to offer disingenuous repentance only to abuse again in their respective churches. Churches are, without any doubt, one of the safest places for abusers to offend. Church Protect is on the front line to train and equip church leaders and their children to resist the devil.
More about Jimmy:
–Co-founder and CEO of Church Protect, Inc.
–Training consultant for CampStart, Inc. in the area of sexual abuse prevention, detection, and reporting
–Certificate in Preparing for the Psychological Impact of Public Health Emergencies and Other Traumatic Events
–Certificates in Child Abuse Prevention
–B.A. in Bible and Religion
–M.Div (Master of Divinity) from Harding School of Theology
–2007 recipient of the Jack P. Lewis Ministry of Study Award
–Conducts annual workshop on Child Sexual Abuse Detection and Prevention for his local community
–Full time minister
–Full time husband and father
–Fully committed to bringing safety and healing for the innocent and vulnerable
Contact Jimmy at jimmyhinton2003@yahoo.com