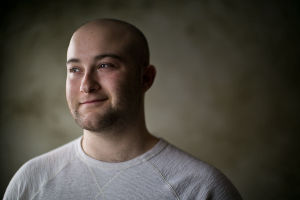 I had the chance to speak on abuse in Tulsa, OK a couple weeks ago. Everywhere I speak, 1/4 to 1/2 of my audiences have been sexually abused as children. I recently received a message from a preacher friend who said, "40% of the women in my congregation have been sexually abused as children." The numbers are probably higher, knowing that many survivors of abuse never disclose their abuse to anyone. These are more than just numbers, though. I listen to the stories and hear see the pain in their eyes when they speak. There are ripple effects that effect just about every aspect of life–from intimacy problems, to depression and sexual promiscuity, to lack of trust and PTSD. You name it, and most survivors have experienced it. This is national sexual assault awareness month, yet this taboo subject will find little attention in the media.
I always like hearing stories of survivors who are empowered to help raise awareness and help other survivors of abuse. A friend sent me a link to a video produced by Sasha Neulinger. You may know him as the young actor who played Shallow Hal as a kid. He also played the obese kid in the movie When Zachary Beaver Came to Town. At any rate, Sasha has gone through 200 hours of home videos shot by his dad and is retelling his childhood story through the home videos. You see, underneath the happy moments captured on home video was a dark family secret–Sasha was being sexually molested by his two uncles. Both uncles sexually molested Sasha's dad as a boy, too. Sasha and his dad are using this film as a way of healing for them and for other survivors.
Give this three minute video a view and let Sasha know you support this endeavor. He is trying to raise enough support to put the video to production. Let's help empower survivors of abuse by listening to their voices.