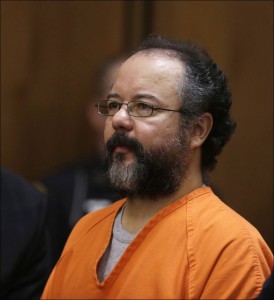 I sifted through a couple hundred comments on news articles of Ariel Castro's suicide in his prison cell. "Good!" "Scumbag." "Rot in Hell maggot." "A cheap funeral for tax payers." "Coward, he can dish it out for 10 years but can't take it for 30 days." Rest assured, the easy thing for the public to do is to celebrate the death of someone who did such evil to innocent children. But it's apparently very hard to imagine what his family is going through right now. Not one comment mentioned his family nor considered what they are experiencing today.
I've heard the comments myself–"Your dad will probably be someone's girlfriend in prison." "He'll get his for what he did," as if those thoughts bring comfort. Don't get me wrong, the horror that is waged on innocent kids is devastating. But for Ariel Castro's family, his suicide is just one more layer to the complex sour onion of grief. And rest assured, the publicity and the negative comments about their father/ex-husband don't put a smile on their face. Nor do they bring peace and comfort. To the family of a perpetrator, death is just another humiliating reminder that the family is plagued with a cloud of shame and embarrassment, and that the public shamelessly will hurl insults and say things that make us want to find a bigger rock to hide under.
Ariel's death will likely bring more questions to his family than it does answers. Was his suicide a cop-out? Was he too selfish to endure prison? Did he feel remorse for what he did and snap from the guilt? Did he really love his own children? Who gets to plan the funeral? Will there be a funeral? Who, if any, of the family should go? Who do they get to do the funeral? Where do they lay his body to rest? Should he get a tomb stone? What will it say and who gets the burden of writing the message? Who pays for the funeral? Will the media smear us if we attend his funeral? Should I be glad that he is dead? If I go to the funeral will that drive a wedge between me and my siblings? Should I be sad that he is dead. . . or glad?
These are just a few of the myriad questions that are going through the family's mind. I am the preacher of my family, so when my dad dies I will likely be the one to take the lead in suggesting whether or not there will be a memorial service. Most of my family has not spoken to dad since his arrest 2 years ago, and I fully respect that. It's where they are right now in the grief process. The betrayal was deep, manipulative, and disgusting. But one day he will die. Some family members may never have a chance to speak to him before he dies. They will have to process that. If there is a memorial, I will have to find the right words to address the pain that is in our family. There may be a majority of family who do not come.
Today, rather than join the drum beat of the public, I choose to pray for Ariel Castro's family and feel their grief. They have a lot to process in the days, weeks, and years ahead.